!!ABSTRACTS DEADLINE extended to Monday, July 10th, 2023!!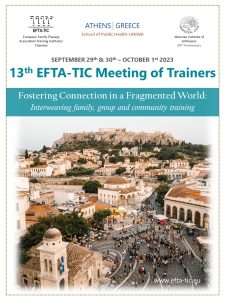 IMPORTANT DATES:
Early Bird Registration deadline:  May 30th, 2023
Abstract Submission deadline: June 30th, 2023
Submit your abstract and register (and find fees' information).
Accomodation exclusive offers:
Until April 30th, 2023 (expired) – please use reference: "ΑIA EFTA-TIC"
Hotels near the Anthropos Institute:
Hotels in the center of Athens:
Athens Manor Houses
220€ Family Suite – Building A, per night
210€ Junior Suite – Building A, per night
200€ Suite – Building A, per night
190€ Executive Room with Veranda – Building C, per night
180€ Executive Room with Balcony – Building C, per night
170€ Superior Room – Building B, per night
160€ Classic Room – Building B, per night
(Reservation by email)
Airotel Parthenon Hotel
150€ single room / 150€ double room, per night
Reservation with special form submission 
(Click here for the form and contact email).
*Breakfast is not included at these hotels.
Special prices may be arranged for breakfast on-demand in collaboration with 
Inbreakfast
: 
https://inbreakfast.com/
** The aforementioned fees are available for reservations between September 28th (check-in) and October 1st (check-out), 2023.
We encourage you to look into these options soon as convenient accomodation options for Athens are limited and the Conference takes place during the tourist season when demand is increased.
See all the locations in the MAP!